SOG Seal Team 2000 knife; Seki, Japan
The SOG SEAL TEAM 2000 is a 7" bladed fixed blade knife with a rubber handle that was designed for the grueling US Navy SEAL knife trials in 1992. The knife was manufactured from 1995 to 2007 for SOG by Kinryu of Seki Japan.

After one of the most extensive testing and evaluation programs in 1992 ever undertaken by the US Government that included knives from almost every major cutlery manufacturer in the USA, we are very proud to announce that the SOG SEAL Knife 2000 triumphed and has been declared the highest ranked knife among the US Navy SEALs.


This knife evaluation program included the following tests: Tip breaking strengths, blade breaking toughness, sharpness and edge retention, handle twist off limits, two week salt water emersion tests, gasoline and acetylene torch resistance, chopping, hammering, prying, penetration, cutting of 6 different types of rope and nylon line, low noise and reflectivity evaluation, plus an intense hands-on competition in the field.


The SEAL Knife 2000 can be securely carried in its waterproof Kydex sheath. This scabbard uses a friction fit as well as a backup nylon strap for knife retention, allowing you to carry it upside down or sideways. There were also models offered in a nylon sheath for those looking for a quieter option. The SOG Seal Knife 2000 is perhaps one of the most dynamic fixed blades on the market. The blade grind and tip design provide the knife with powerful penetration and cutting abilities.
The SOG Seal Team; Seki, Japan - 3 sheath options.
Kydex Skin Diver with cord cutter Kydex ambidextrous, Nylon ambidextrous,

Back side of the sheaths.

"Information taken from: SOG Knife Collectors
Specifications:
Blade Length: 7 in. x .250 in.

Overall length: 12.25 in.

Blade steel: AUS-6

Blade hardness: Rc. 56-57

Blade finish: Powder coated

Weight: 12.6 oz.

Edge: Partially serrated

Carry System: kydex sheath

H

andle Material: Zytel

Manufacture: Seki, Japan
In 2007 SOG quit producing the Seal Team in Seki, Japan and switched to Taiwan, China. Knives such as these and many of the SOG models produced prior to the shift of production from Seki, Japan to Taiwan are considered the best knives SOG had ever made.
Top Knife SOG Seal Team: Taiwan (used) - Bottom SOG Seal Team: Seki, Japan (NOS)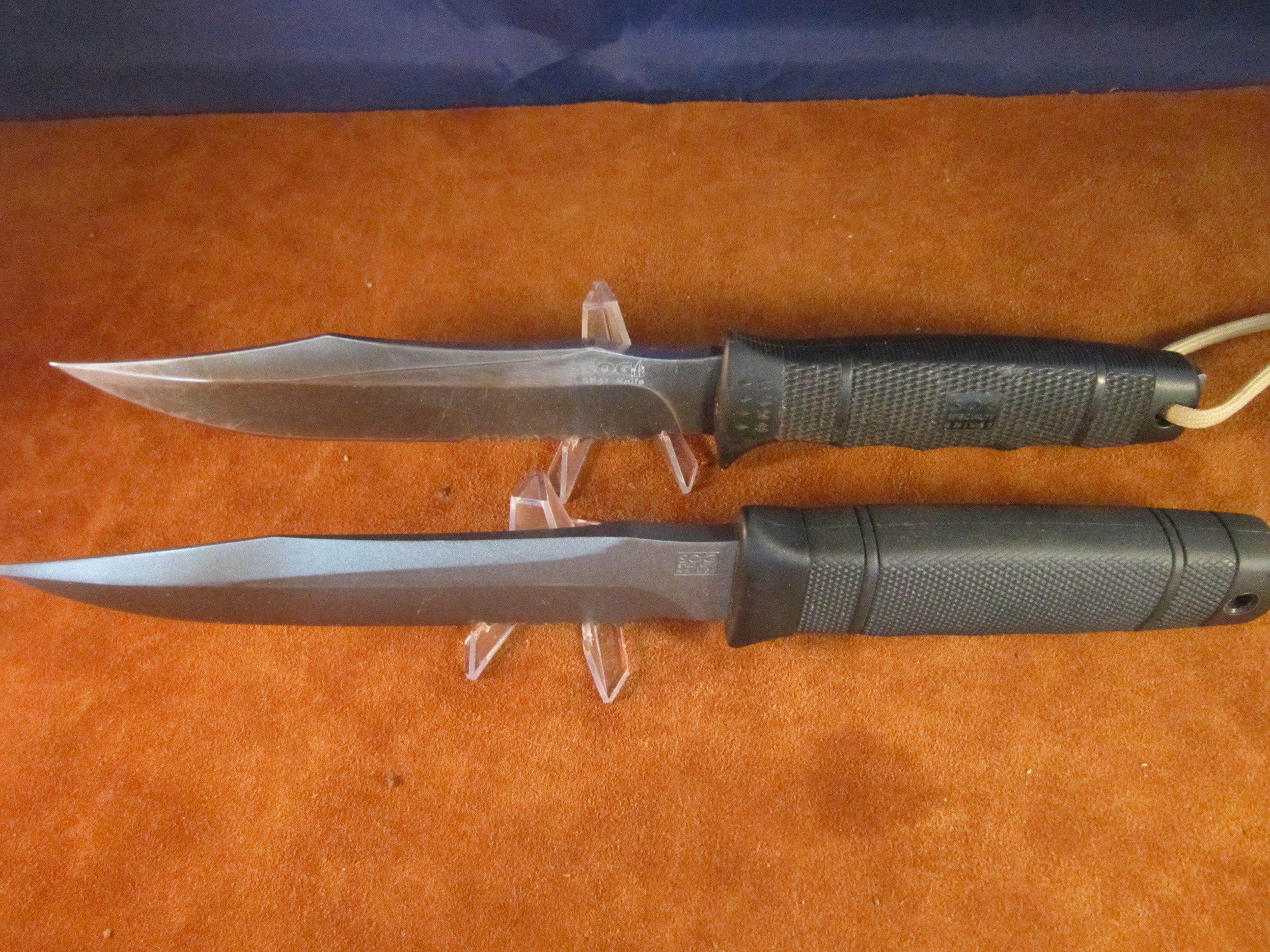 The Seal Team Seki, Japan is a heavier knife with a handle better suited for bigger hands, Both knives balance well and possess a very sharp, piercing tip. The Seki, Japan knife has 25% less of the serrations leaving more slicing blade and has a less aggressive pattern on the handles. The other major difference is in the blade, a saber grind verses a hollow ground and the an AUS 6 steel blade verses AUS, 8 resulting in a knife that weighs almost 2 oz more. That is not to say the Seal Team, Taiwan is not a good knife. I have carried and used one. The SOG Seal Team, Seki, Japan is a stouter knife, bigger handle, thicker blade and carries exceptional Seki workmanship.
Looking to own: SOG knives for sale
#3 Vintage Survival Knives - No Longer Produced Smith & Wesson Survival Series Model 6030