S&W Survival series.
In 1972 Smith and Wesson worked with well known and innovative knife designer Blackie Collins to introduce the company into the knife business. This program was announced in 1975 and seven knives were initially offered. Called the Survival Series they included a Bowie, Outdoorsman, Survival, Skinner a folding hunter knife, a fisherman knife and a filet knife.
The blades were forged from modified 440 Series Stainless Steel. A total of 47 operation from forging to hand polishing are performed on the blade before fitting to the handle on the Survival knife. The amount of work necessary for these knives caused S&W to fall behind on production and delivery to the retailers. Smith and Wesson produced in house a few other knives but none that required the amount of hand fitting as this series. The most beautiful knives S&W ever produced in house.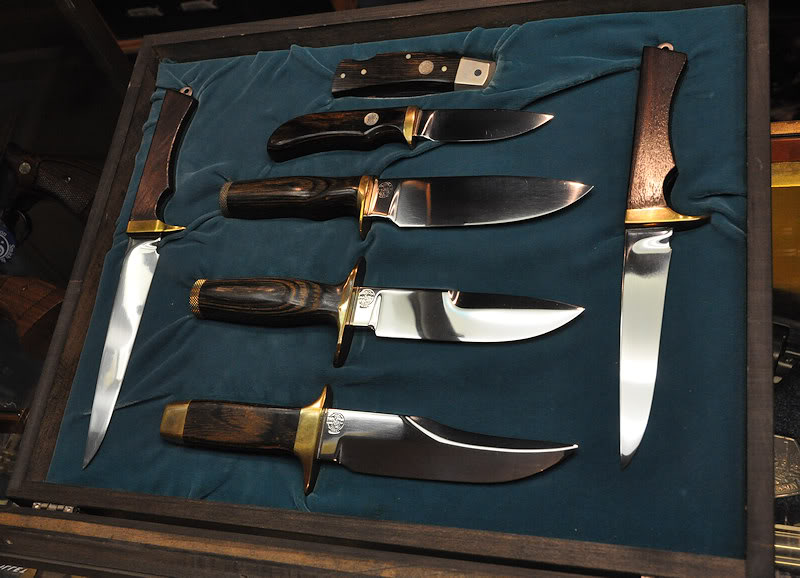 The factory geared up production to manufacture a standard Bowie knife similar
in design to the Texas Ranger; a general-purpose hunting and camping knife with
a 5 inch blade and an emergency equipment cavity in the contoured handle.
This was called the Outdoorsman.

To increase their versatile knife line, Smith & Wesson manufactured the Survival
knife. This also had a hollow handle cavity covered by a solid brass screw-on
cap. The handle was round and blended into a double quillon cross guard for
maximum workability and production. The 5 inch blade had a wide flat spine
and a sharpened false edge. The factory hoped that this 10-ounce knife would
gain popularity with campers and back-packers.

A 3 inch dropped point blade knife, designed for Smith & Wesson by Blackie
Collins, and was offered to the hunter. Its handle was tapered and contoured to fit
into the hand for ease in skinning large or small animals. This was called the
Skinner.

For the individual who did not like fixed blade knives, the factory offered a 3
inch blade lock-back knife called the Folding Hunter. This was a rugged,
handsomely made knife with nickel silver bolsters and sold with a belt sheath.
The factory did not have the capability to manufacture this particular item;
therefore, they contracted with Alcas or Bowen Knife to produce the folding
hunter according to Smith & Wessons specifications.
To complete their line of knives, the factory offered the fisherman two fixed blade
knives. These were called the Fisherman Fillet, designed with a 6 inch blade,
and a general-purpose knife with a stiffer 5 inch blade simply called the
Fisherman knife.
These seven styles rounded out the Smith & Wessons complete knife line. The
company had put together a group of knives with broad appeal that would offer
advantages of custom-made products but at reasonable prices.

Everything was done to build in quality and custom appearance. The blades were
forged, utilizing 120 plus years of experience in steel forging. The guards and
pommels were hand fitted and silver soldered to the blade. The handles were
hand fitted and made of a special pressure impregnated natural wood called
Wessonwood, which gave maximum durability for a long-lasting life. The edge of
each knife was hand honed by individuals specially trained to complete this
operation and provide a sharp edge blade direct for the factory.
Production numbers
Texas Ranger Bowie – 20,000
Bowie 6010 – 15,000
Outdoorsman 6020 – 13,000
Survival 6030 – 17,500
Collector Series – 3,752 (800 complete)
Skinner 6070 – 15, 500
Fillet – 4,500
Fisherman 6040 – 4,500
Fisherman 6050 – 4,500
Folding Hunter 6060 – 35,000
This information was gathered from the book: "The Knives of Smith & Wesson" by Clarence E. Rinke 1990 (Limited publication of 1,000 books).
This is an amazing book with a lot of information about all the knives as well as the Special Production knives that were produced from this series as well. I highly recommend it if you can find one to buy.