5 Vintage well designed Survival Knives
A love of big knives is an addiction and there are so many great knives to choose from. These 5 Bowie/Survival knives are 5 of the favorites from the vast selection we have bought and sold over the past decade that are no longer in production..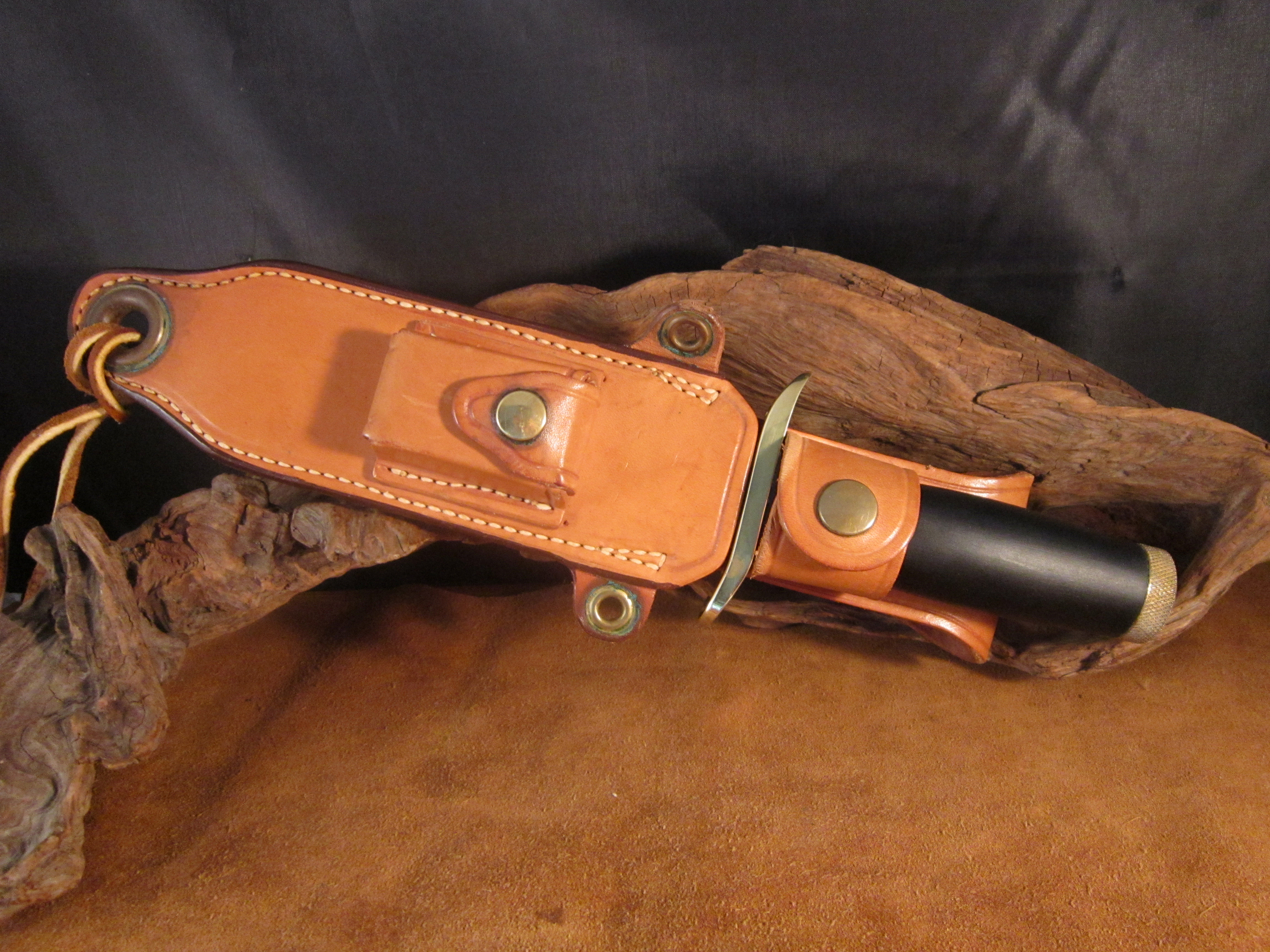 70's Bianchi 855 Nighthawk.
This is a premium quality military grade 1970's vintage survival, fighting, and hunting knife made by Carl Schlieper/Eye Brand, Solingen, Germany with the original leather sheath, marked on the knife: BIANCHI - SOLINGEN GERMANY - STAINLESS - and marked on the sheath: BIANCHI #855 - "NIGHTHAWK" - and showing a Star logo on both. This classic survival knife has a hard black composition handle with knurled brass pommel that unscrews for hollow handle storage, and a razor-sharp spear point top serrated edge and bottom plain edge, 440C high carbon stainless steel blade with a mirror finish.

Schlieper bypassed the importer in the late 1970's and sold the knife to Bianchi Leathers before the design was introduced under the Eye Brand banner. Those knives were marked "Bianchi" and naturally Bianchi made the sheaths. Bianchi has a great reputation as a high-quality leather holster maker for guns.
Carl Schlieper Hammer Forged blades. Eye Brand Knives is one of the few companies that still uses the age-old method of hammer forging its blades. Most traditional knives today are cold stamped, but Eye Brand still forges the steel to shape. Hammer forging compresses and realigns the blade steel's grain structure, thereby increasing the toughness and edge holding characteristics of the knife blade. It is a more costly and time-consuming process, but worth the effort.

The Bianchi Nighthawk also came in a military version produced in 1985, the Nighthawk ll Model M-1400. This Nighthawk II featured a spear point Satin Toned blade with serrated and sharpened top edge. 3/16" blade stock of 440C High Carbon Stainless Steel. The handle has a brass S-Guard, green composite handle that is hollow, and a removable brass butt cap. Comes with a green nylon military style sheath with survival items. This knife measures 10 1/2" with a 5 7/8" blade and in the sheath the weight is 1 lb. 3 oz.

Bianchi Nighthawk Knives available Bianchi Knives
2. SOG Seal Team 2000 - Seki, Japan
3. Smith & Wesson Survival knife 6030