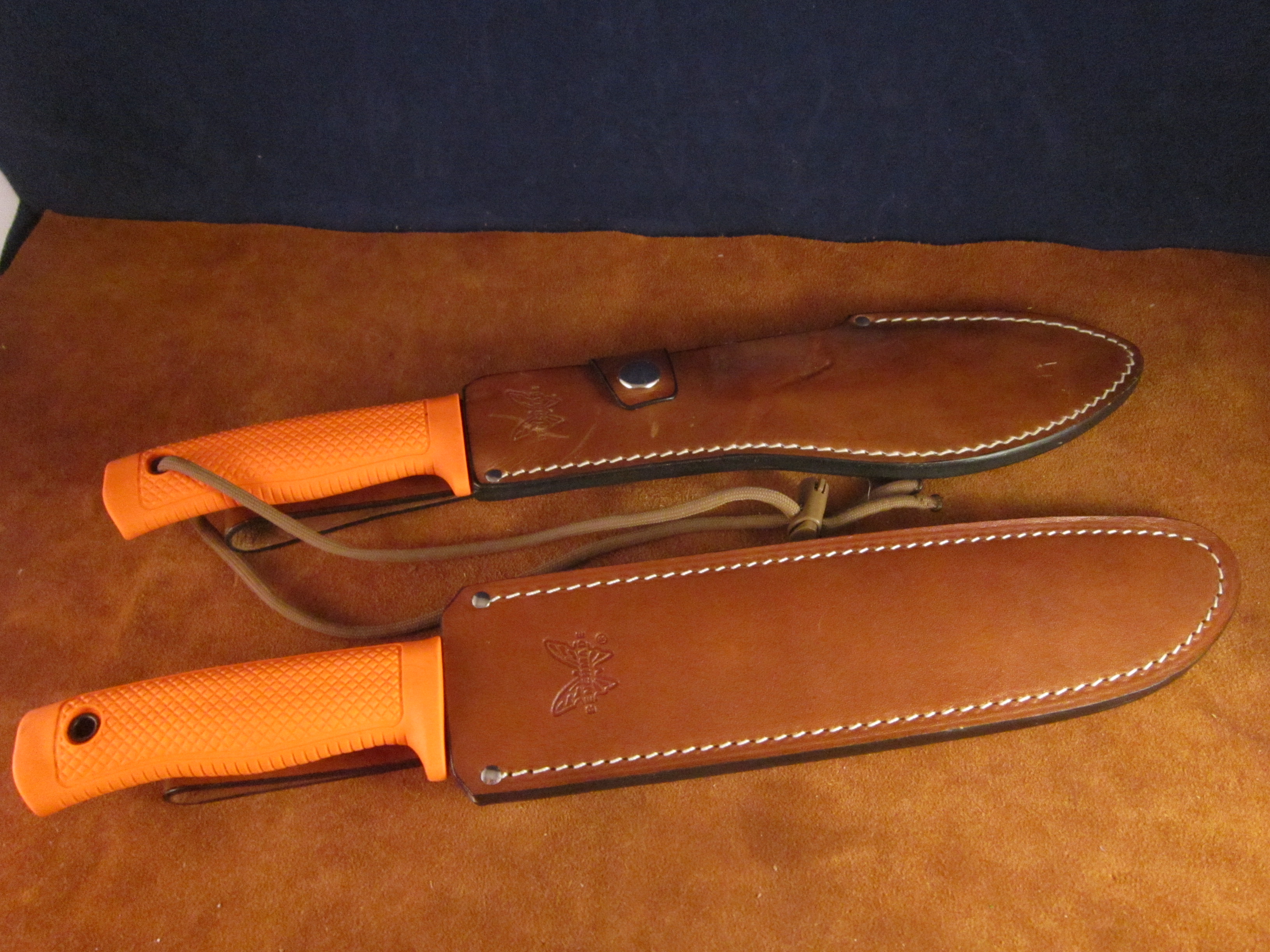 The Jungle Bolo's Blade Length is: 9.00″, the Jungle Clip Blade Length is 9.69". Both are made of 1095 Spring Steel with a Rockwell Hardness 57-59 HRC.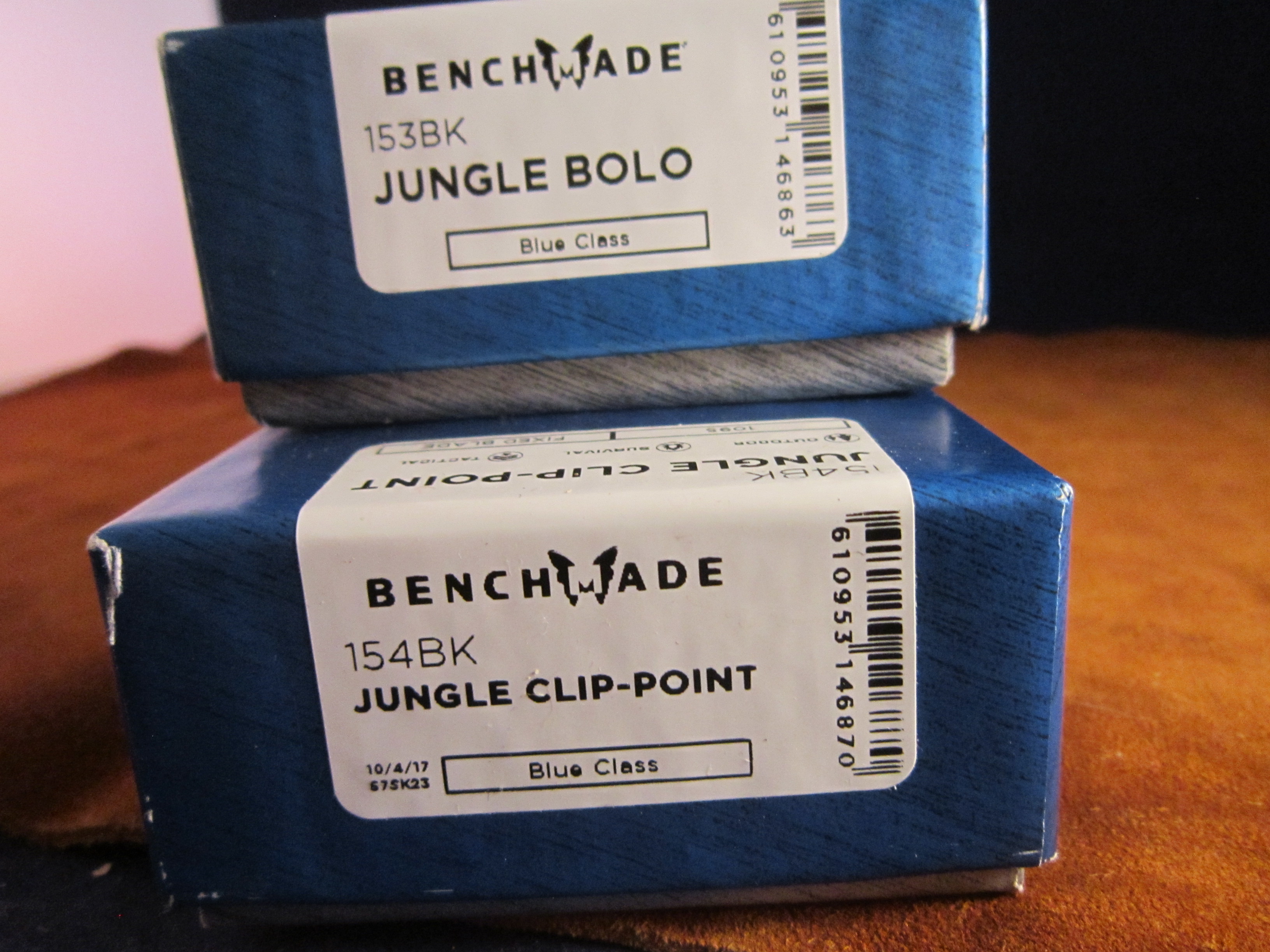 I remember first seeing these at a show and liking the feel, balance and simple design. I was not looking for a 9" or larger Outdoor Knife at the time and decided I would remember them for in the future. All of the sudden I was not seeing them offered anymore and realized I may have missed my chance. Facing an overgrown property and a plan to become an active RV'er I set a goal to acquire a set which cost me much more than they were originally sold for, but if you want really want to own an excellent set, they will only cost more later.
Benchmade discontinued them for some reason, maybe the orange Orange Textured Santoprene handle did not look traditional Benchmade and turned off some buyers or maybe the buyers were delaying like me and Benchmade needing greater volume in sales dropped the line. I think they retailed for a little over $100 apiece which was a reasonable price for Benchmade, in 2017 they carried a $130 MSRP.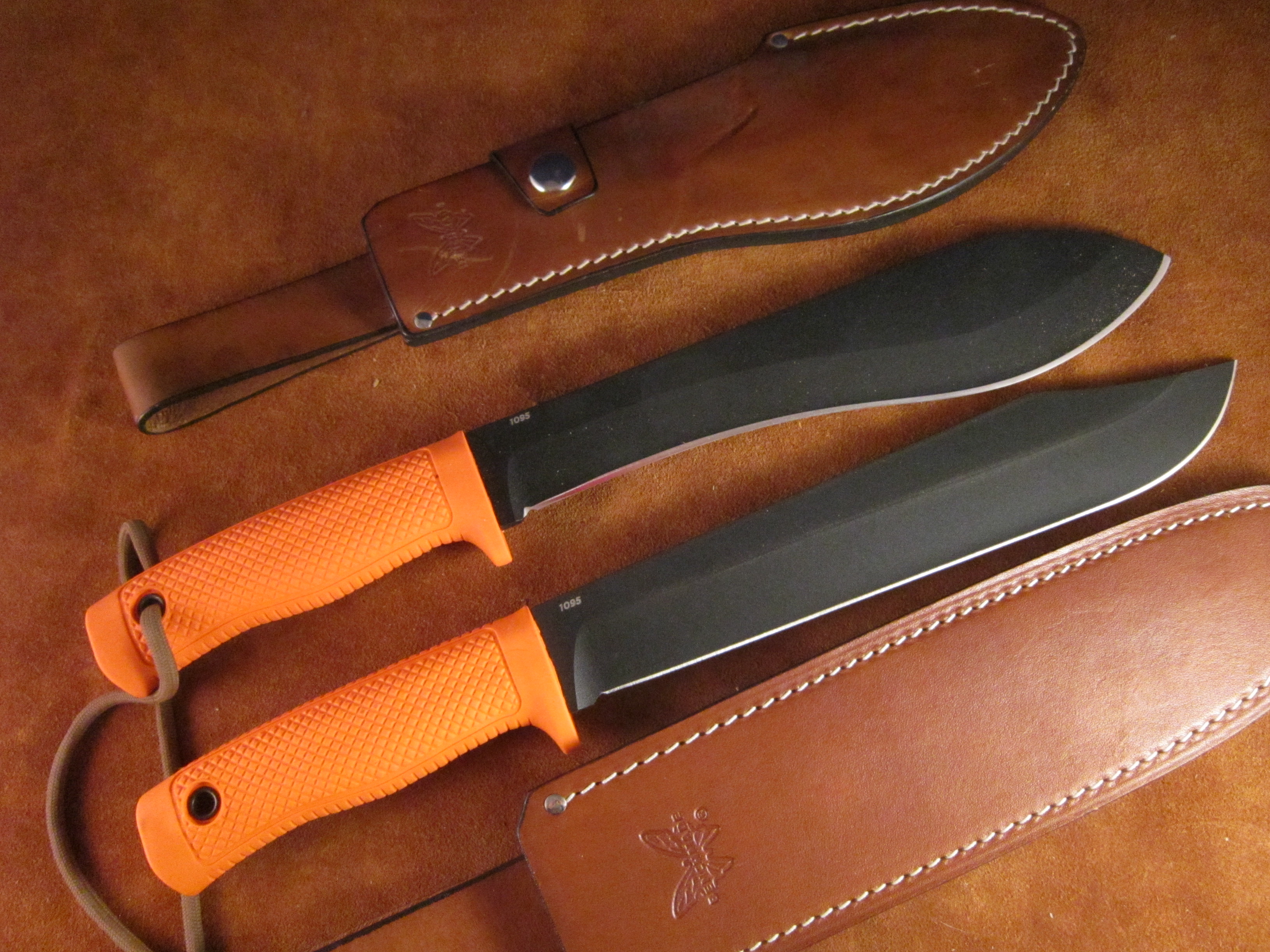 They came with a nice leather sheath; the Jungle Bolo had a keeper strap, the Jungle Clip was a friction fit. Sewn on belt loop allows the sheath to hang low for easy carry. I found the Orange Textured Santoprene handle comfortable with a sure grip and while both knives were weight forward, they did not strain the wrist.
Benchmade described the blade: "The black coated 1095 spring steel blade is thick enough for clearing heavier brush but will still work for vines & grasses." Knives have a blade thickness of .0195 and a blade hardness of 57-59HRC. That level of hardness should give you a blade that can take some abuse, not chip and be maintained in the field with a sharpening stone as well.
An integrated guard keeps the hand out of harms way and increases safety. Lanyard tube at the end of the handle is ready to accept a retaining cord.
The Jungle Bolo is designed to chop well, sharing some of the characteristic of a Khukuri. The Jungle Clip is a more all around design with a cutting blade and piercing point. Best part, they were designed by Warren Osborne, a gifted designer and made in the USA,
.