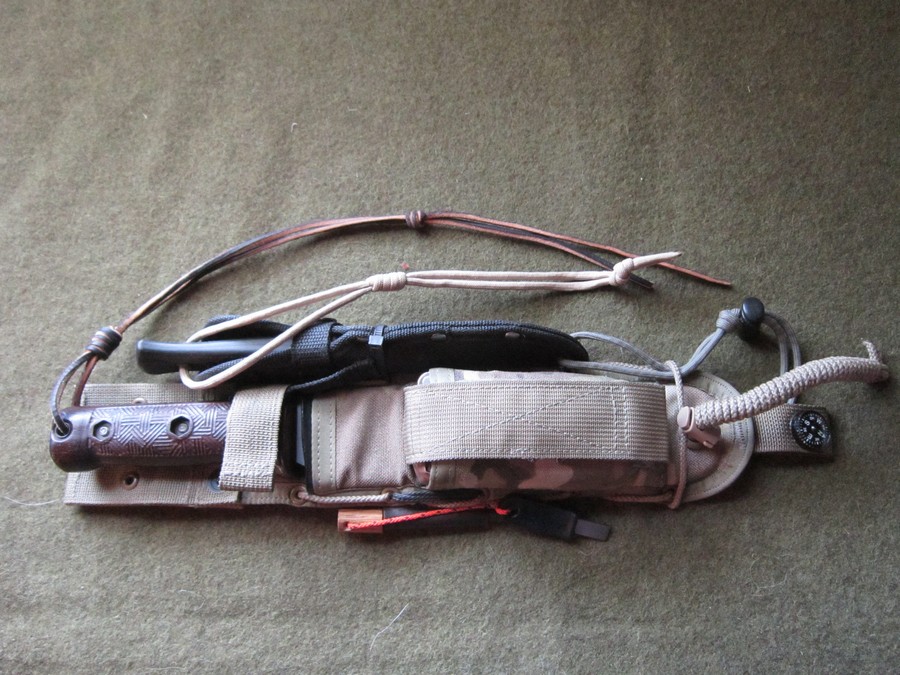 I Love Big Knives.
I have always loved big knives that are 6"+for chopping and self defense, but smaller ones in the 3.5"-5.5" are more practical for general purpose Bushcraft or Camp use. This kit has both, plus some basic survival items. If I could only grab one thing quickly, this would be it. Chances are my backpack is close by, but when you are roaming around a campsite, or hear a noise outside and have no gun, this would be the one I would grab.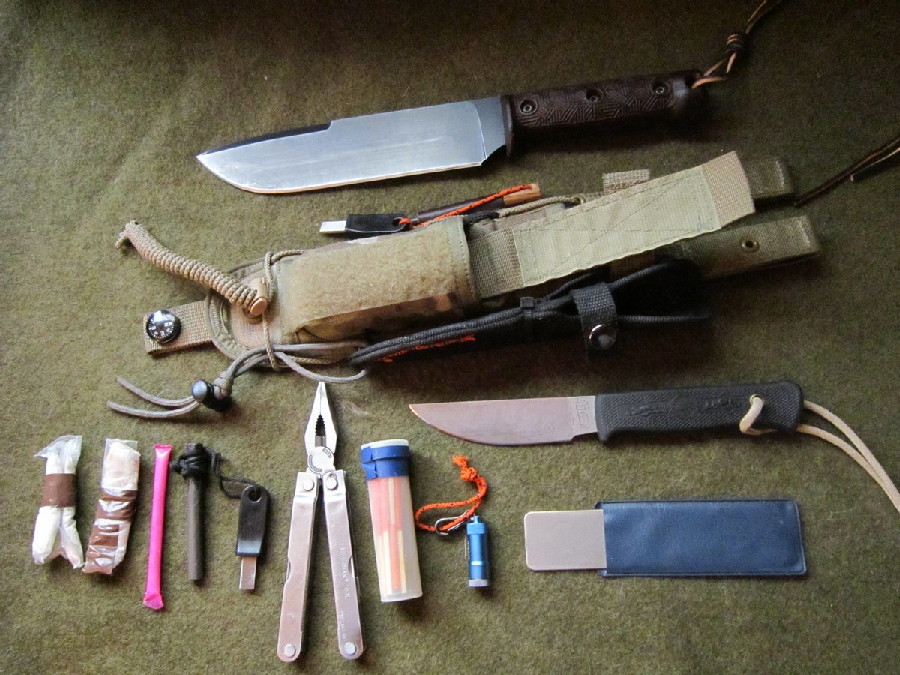 Starting at the 12:00 position is my UTK 0200 8" field knife in 1095 steel made in the USA with Coca Bolo handle. The sheath is a Spec Ops Combat Master sheath and attached to it is a 3/16th X 4" firesteel with striker. The knife below the sheath is a Marbles Plainsman with 4.5" blade of 1095 steel. Below that is a diamond sharpener with fine and extra fine sides.Left of the sharpener is a Doug Ritter Pico emergency light, a waterproof match holder with 16 waterproof, windproof matches, 2 strikers and some cotton balls/petroleum jelly as a filler. Continuing left we have a Leatherman tool with pliers, file, wood saw and more, Left of that is a 3/8"X3" firesteel with scraper, a pink straw and 2 other containers of Cotton/ petroleum jelly. Finally at the 9:00 position is a AA quality button compass glued to the sheath.
Am I missing all that I should have, yes, but this gives me defense, cutting, fire, direction, light, and a multitool. Lots of fire because that is important to me and 2 firesteels so I could trade one if needed, or just help out someone in need. All of these items are tried and true and I have confidence in their performance and my ability to use them.